Christina Varano-Sanabria
Executive Director
Christina D. Varano-Sanabria received her master's degree in mental health counseling and addiction from Caldwell University. Throughout her career, which spans more than a decade, she has exceeded requirements to obtain multiple licenses, which include her LPC, LCADC, and ACS in the state of New Jersey.
She believes in a client-centered approach utilizing dialectical behavior therapy (DBT) and cognitive-behavioral therapy (CBT) methods. She has worked in both clinical and private practice settings addressing issues ranging from addiction to co-occurring disorders.
Her undergraduate degree was completed in psychology at Manhattan College. She is also certified in treating anger management and is a national board-certified counselor. Christina's hobbies include spending time with her husband and her 1-year-old puppy, Flash, reading, and spending time in nature.
Tricia Kostin MSW, LCSW, LCADC
Clinical Director (Summit at Florham Park)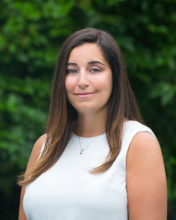 Tricia is a licensed clinical alcohol and drug counselor and a licensed clinical social worker. She obtained her master's degree from Rutgers University School of Social Work and has more than 10 years of experience in various positions and treatment settings.
Starting in an outpatient ambulatory detox/maintenance program, Tricia saw the need for education and support for consumers and their families. Tricia transitioned from a medically assisted modality of treatment to delving into intensive outpatient services. She initially found her niche in working with young adults and their families. Currently, Tricia focuses much of her energy on program development and team building.
As the clinical director of Serenity's Florham Park location, Tricia and her team work closely to provide the best treatment outcomes for clients and their families. Utilizing both group and individual therapy, Tricia ensures everyone is involved, informed, educated, and supported throughout their journey.