The time spent in a rehab program is directly correlated to one's success in recovery. Those who spend longer in treatment programs have fewer instances of relapse and better rates of long-term success in sobriety.
While specifics will vary according to a person's particular situation, the National Institute on Drug Abuse (NIDA) recommends that people spend at least 90 days in treatment.
What Does the Data Say About Different Lengths of Time in Rehab?
About 40 to 60 percent of people who struggle with addiction relapse at some point. Though this rate seems high, it is similar to relapse rates for other chronic diseases like asthma and heart disease. The amount of time a person spends in addiction treatment plays a role in their ability to avoid relapse and maintain their sobriety over the long term.
Many treatment programs are 30 days. But research data shows that this is not enough time for most people. Studies suggest that 90 days is better to reduce instances of relapse, but this is also not a magic number. The exact length of time needed will vary in each individual situation.
Overall, however, people who spend fewer than 90 days in treatment have a higher risk of experiencing a relapse.
One of the studies that demonstrated this looked at 1,605 people who had a cocaine addiction. The results determined that about 35 percent of the people who spent 90 days or less in rehab used drugs the following year.
Of the people who spent more than 90 days in treatment, only 17 percent used drugs the following year. There was a clear correlation between better rates of sobriety and more time spent in treatment.
Another study looked at 1,167 adolescents in substance abuse treatment. The results determined that the participants who spent more than 90 days in rehab were less likely to go back to using illicit drugs or heavy drinking. This was compared to the participants who spent only 21 days in treatment.
Is There an Optimal Amount of Time to Spend in Rehab?
Each person dealing with substance use disorder has unique needs, so there isn't an exact number of days in treatment that will work for everyone. Despite this, NIDA recommends that people spend at least 90 days in treatment. Treatment that is shorter than this duration has limited effectiveness.
By spending at least 90 days in treatment, people have the time necessary to develop the skills they need to remain abstinent. For some people, however, this process will take 120 days or longer.
This 90-day period does not include detox. For example, if someone is in treatment for heroin and medical detox lasts for 10 days, they need to complete at least 100 days of treatment to get the most benefit and reduce their risk of relapse.
Detox timelines vary according to the person and the substance. The following are average detoxification times for different substances:
Heroin: 4 to 10 days
Benzodiazepines: 2 to 8 weeks on a tapering schedule
Alcohol: 3 to 14 days
Are There Diminishing Returns With Longer Rehab Stays?
This timeline doesn't necessarily mean that someone lives in an inpatient treatment facility for three months. It may involve a one-month stay in a facility and then a step down to an outpatient program for two months. A person may move through various levels of care during the 90 days.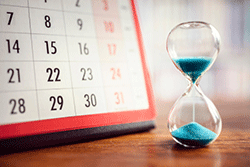 Following a treatment program, people might consider living in a sober living home. This is a controlled environment that gives people freedom while still providing them with the tools and support to aid them in maintaining their sobriety.
One study looked at 300 people who were trying to remain sober from drugs and alcohol. These participants lived in one of two sober living house options. Living in these environments showed positive longitudinal outcomes for the participants.
Is There an Amount of Time in Rehab That is Not Enough?
In general, anything less than 90 days is not recommended.
Less than 90 days of treatment is typically not enough time for people to develop the tools they need to function in the world as a sober person.
When someone seeks help from a treatment facility, treating professionals and the client work together to determine the optimal length of stay during the intake interview.
The overall time frame might change somewhat depending on a person's progress in treatment.
Once someone reaches the end of the program, there may be options to extend their stay if necessary.
How Does the Drug of Abuse Factor In?
According to data from the Substance Abuse and Mental Health Services Administration in 2013, the following was the median length of stay for different types of substance abuse treatment programs:
16 days in hospital residential treatment
4 days for detoxification
27 days in a short-term residential treatment facility
130 days in an outpatient treatment program
88 days in an intensive outpatient treatment program
90 days in long-term residential treatment
For opioids, longer treatment stays show higher levels of success. The 2013 data showed the following as the average:
5 days for medication-assisted opioid detox
207 days for medication-assisted opioid therapy through an outpatient program
An Individual Path
When it comes to rehab, choosing the right facility and the proper length of stay are critical for the best chance at long-term sobriety. The exact amount of time you spend in rehab will depend on your individual situation, and this decision should be made in conjunction with your treatment team.
Expect at least 90 days of some form of treatment for best results.