Addiction treatment and mental health disorders are common issues in the United States. For decades, doctors, researchers, and clinicians have worked to find solutions to substance use disorders, anxiety disorders, and mood disorders. However, some of the methods that have been created have risen to the level of being called evidence-based. Learn more about evidence-based modalities that are used in treating substance use disorders.
What is Evidence-Based Treatment?
Evidence-based treatment refers to addiction and mental health treatment approaches that are based on scientific evidence. If a treatment method is described as evidence-based, it means that it has gone through a rigorous scientific testing process and has proven to be effective.
There is no one-size-fits-all addiction treatment program, so even specific evidence-based treatments may not yield perfectly effective results for every person. Still, evidence-based approaches have shown to be effective enough to be used as a part of personalized treatment programs. Evidence-based approaches have been tested for both safety and effectiveness.
Evidence-based treatment is a concept that has been present in medicine and clinical treatment for centuries. But the term "evidence-based" has its modern origins in the 1980s. The term became associated with the standard that clinical decisions should be based on scientific evidence. In addiction treatment and mental health services, evidence-based treatments form the foundation of effective treatment plans.
What are Some Common Evidence-Based Approaches?
A variety of evidence-based approaches include pharmacotherapies and psychotherapies. When you enter an addiction or mental health treatment program, you'll go through an assessment process with a doctor or clinician. Through this process, you'll create a treatment plan that may involve one or many of these treatments. Common options include:
Cognitive Behavioral Therapy (CBT). Cognitive behavioral therapy can be used to treat substance use disorders and mental health issues. The goal of CBT is to change unhelpful patterns of thinking that lead to mental or behavioral problems. This therapy often focuses on identifying common triggers and developing effective coping responses to them. For that reason, CBT is often an important part of relapse prevention strategies.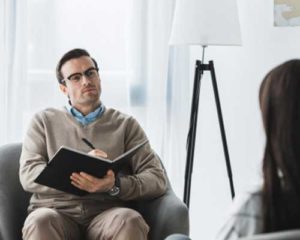 Motivational-Enhancement Therapy (MET). Not everyone who enters a treatment program is ready to make a change. Some people may reluctantly seek treatment, or they could be compelled by family members and even court orders to get treatment. Motivational-enhancement therapy is designed to help people engage in their treatment programs and increase their readiness to change.
12-Step Facilitation. Programs like Alcoholics Anonymous pioneered 12-step programs to encourage long-term abstinence. When treatment programs connect individuals to 12-step programs in their community, it can help facilitate long-term sobriety and participation in recovery efforts after treatment ends.
Medication-Assisted Treatment (MAT). Medication-assisted treatment refers to the use of certain medications that are specifically designed to treat substance abuse issues. For instance, the partial opioid agonist buprenorphine is used to treat opioid use disorders. MAT is often reserved for people who have tried addiction treatment but relapsed multiple times.
Several other evidence-based treatment options can be used to treat addiction and mental health issues. Because addiction is so complex, it's important to tailor treatment to each individual's needs. For that reason, a treatment plan may involve a variety of evidence-based therapies.