While the Jersey Shore has been a go-to destination for decades, the famous MTV show "The Jersey Shore" boosted its popularity.
The show was about a group of Italian American young adults who glamorized drinking and living on the edge. While the show steamrolled ratings and gained popularity among teens and younger Americans, it was never a good influence on developing minds. The more we learned about the cast, we found out that Mike Sorrentino, otherwise known as "The Situation," struggled with opioid addiction.
One positive that came from the show was the ability to watch the main character, Mike, and how he publicly overcame his addiction to opioids. His substantial social media following allowed him to post motivational content and inspire others to lead a healthier lifestyle and know that help is around the corner.
Unfortunately, his story isn't the only one across the United States, and on the Jersey Shore, it's just one that's been publicized by fame.
Ignoring the opioid crisis that our country faces isn't wise. At least 128 people are dying each day as a result of opioid overdoses, according to the National Institute on Drug Abuse (NIDA). This has been driven primarily in part due to individuals misusing prescription pain medication, synthetic opioids, and heroin. Although it's hard to put a cost on life, the opioid crisis is costing taxpayers, on average, $78.5 billion each year due to lost productivity, crime, and healthcare.
Opioid addiction goes further than just the person using; we see the devastation in families and all over our communities. Opioid treatment on the Jersey Shore is essential in fighting this battle. We must spread the message that help is available and that you can have the life you've dreamed of free of addiction. Addiction isn't a life sentence, and fortunately, we have the answer if you're ready to listen.
If you've finally had enough and are ready to seek opioid treatment on the Jersey Shore, we're prepared to help you find your purpose. You should continue reading to learn more about how the Jersey Shore has been affected by the opioid crisis.
How Opioid Addiction is Affecting the Jersey Shore
Middlesex County, one of the major regions on the Jersey Shore, registered an estimated 201 overdose deaths in 2017. Men have been affected more than their female counterparts on the Jersey Shore, but fortunately, there is progress in the region.
Opioids have affected the Jersey Shore significantly, but we see signs of progress. Throughout New Jersey, the number of prescription opioids dispensed by physicians has seen a significant decline. An estimated 38.9 opioid prescriptions were written for every 100 persons, much lower than the national average of 51.4 per 100 persons, according to NIDA.
NIDA also reported that there were more than 67,300 drug overdose deaths in the nation in 2018. The number includes illicit drugs and prescription opioids. Deaths involving synthetic opioids continued to rise, with more than 31,335 overdose deaths in 2018. The staggering numbers show no signs of letting up, despite overall drug overdose deaths decreasing from 2017 to 2017.
Jersey Shore Substance Abuse Statistics
New Jersey is experiencing an unusually high number of overdose deaths throughout the state. From Jan. 1 through June 30, 2020, 1,595 overdose deaths have occurred statewide. During that same time, 1,789,327 opioid prescriptions have been dispensed by doctors, which, as we mentioned above, is still far below the national average.
In Middlesex County, there have been 117 suspected overdose deaths, 520 accounts of naloxone administrations, and 136,135 opioid prescriptions dispensed.
These are figures that officials must continue to monitor. It's vital for those struggling to seek opioid treatment on the Jersey Shore. Even if you feel there is nowhere left to turn, there are caring clinicians and addiction specialists that will welcome you with open arms to overcome this disease.
Jersey Shore Opioid Withdrawal and Treatment
One of the primary reasons people will shy away from stopping opioid use is the rough road ahead. Opioid withdrawal, while not life-threatening, is an extremely uncomfortable process that will test you mentally and physically.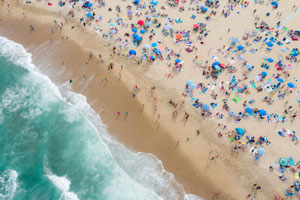 Despite the fact withdrawal doesn't regularly lead to death, it's not the same for anyone. We each have our own body chemistry, which determines how severe the symptoms of drug withdrawal will be. Because of this, you must commit to medical detox to ensure your safety, comfort, and peace of mind.
You are less likely to stop using opioids permanently if you detox without help. In most cases, the individual will relapse due to the intense flu-like symptoms, including extreme sweating, nausea, vomiting, diarrhea, and a low-grade fever. Those who do end up relapsing face the risk of overdose if they've abstained for several days, and their tolerance drops dramatically. You must enter detox to avoid these dangers.
Those who do opt for detox and seek opioid treatment on the Jersey Shore will have a much easier time getting over opioids. Once you are moved into a level of care that is suited for your needs, which may include a residential or outpatient facility, you can start focusing on why you started to misuse opioids. It's time to give yourself the shot at life you deserve.