Opioids are medications that ease short- and long-term pain. People with chronic pain can be prescribed an opioid to help them live life without too much discomfort. Someone who has undergone surgery may be prescribed an opioid to reduce the initial pain. Some of the more commonly prescribed opioids are hydrocodone, oxycodone, codeine, and morphine.
Opioids can also be illicit, such as heroin and illegally made fentanyl. Heroin is often easier to obtain illegally than prescription opioids due to most U.S. states cracking down on opioids distribution. Drug dealers are known to incorporate fentanyl with other drugs to "stretch" the drug supply. However, fentanyl is 50 to 100 times stronger than heroin and is usually fatal for the person who ingests it.
Opioid addiction, or opioid use disorder as it is more commonly called, is a public health issue that seemingly will not go away. Princeton Junction is no stranger to this problem.
The information below describes how opioids addiction affects the Princeton Junction area and details the type of substance use treatment available in the community at large. Keep reading if this information will be beneficial to you or someone you care about.
How Opioid Addiction is Affecting Princeton Junction
While Princeton Junction is a small unincorporated community, it is still not without its share of opioid addiction problems. The area is near Princeton, Trenton and New Brunswick, where prescription and illicit opioids are distributed throughout the year.
New Jersey drug addiction statistics for Mercer County reports that there were 68 suspected overdose deaths, 287 naloxone administrations, and 77,486 opioid prescriptions dispensed in 2020. thus far.
Statewide, there were 2,900 drug overdose deaths in New Jersey, in which 90 percent of them involved opioids, per the National Institute on Drug Abuse.
Opioid addiction is physically and psychologically tough to overcome. However, it is treatable, and sustained abstinence can be reached with the right programs and services tailored to the individual's specific needs.
Princeton Junction Substance Abuse Statistics
Princeton Junction is located in Mercer County, New Jersey. While not considered a major metropolitan area, the county lies in the northern region of the state and is close to New York. This proximity to a major entry point for illegal and prescription opioids brings numerous problems to Princeton Junction and the county.
In the 2018 New Jersey Substance Abuse Monitoring Systems (NJ-SAMS) report:
Heroin accounts for 1,506 addiction admissions
Cocaine accounts for 293 addiction admissions
Other opiates account for 248 addiction admissions
Also, 1,074 of those admitted were intravenous (IV) drug users. Intravenous drug use can bring on its own negative array of issues, including HIV infection, hepatitis, and more. People between the ages of 35 to 44 accounted for 22 percent of those admitted.
Seventy-one percent of the substance use admissions were in Mercer County, where Summit Behavioral Health is located.
Princeton Junction Opioid Withdrawal and Treatment
Opioid Withdrawal
Opioid withdrawal is not necessarily life-threatening, but it can be very uncomfortable and disconcerting. Some of its symptoms feel flu-like, such as sweating, a high temperature, nausea, vomiting, diarrhea, and dehydration. Dehydration can be fatal if there is no water or other liquid to rehydrate the individual.
Medical detoxification is most often the first step in opioid treatment. It involves medical and addiction professionals overseeing the person's detox, and being available to monitor their vital signs and provide water or hydrating fluids.
Initial symptoms for those who consumed short-acting opioids may begin six to 12 hours after the last dose was taken. People who have taken longer-acting opioids could feel these symptoms within 30 hours of the last dose:
Runny nose
Trouble sleeping
Muscle aches
Yawning excessively
Fever
Anxiety
Increased heart rate
Hypertension
The most intense symptoms can begin 72 hours after the last dose. These include:
Nausea
Vomiting
Diarrhea
Stomach pain
Strong cravings for opioids
Depression
It is usually during this time when an individual relapses. This is why it is essential to be in an opioid treatment program at an accredited addiction facility. The person's health and safety are the foremost goals.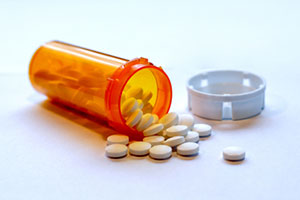 When medical detox is complete, the individual will meet with treatment specialists to work out an opioid treatment plan that meets the person's specific physical, psychological, and social needs. Summit Behavioral Health does not subscribe to the "cookie-cutter" approach to addiction treatment. Each person is different in their needs, and each treatment plan is created expressly for that individual.
Opioid Treatment
Opioid treatment in Princeton Junction could include inpatient or outpatient therapy. The difference lies in how much and how long a person has taken opioids. Evidence-Based Treatment (EBT) options, which teach an individual how to live without taking drugs, are a part of this kind of program.
Relapse is common, but it should not be considered a failure. The National Institute on Drug Abuse states that the rate of relapse in drug addiction is between 40 to 60 percent. Relapse indicates that a treatment plan needs to be adjusted to meet the person's current needs.
Addiction is "a brain disease that is manifested by compulsive substance use despite harmful consequences." Addiction is also called a substance use disorder. Someone with opioid use disorder is considered to have a severe substance use disorder. Addiction is a chronic yet treatable disease.
Summit Behavioral Health is located in Princeton Junction and provides evidence-based opioid treatment services for those who want to end opioid misuse. The facility provides family programs because addiction affects everyone in the family. Families in therapy support and empower each person, so the family heals.