The Centers for Disease Control and Prevention explains that opioids are a class of drugs used to treat pain. It also states there are three types: prescription opioids, fentanyl, and heroin.
A doctor usually prescribes opioids to treat moderate-to-severe pain. Fentanyl is a synthetic opioid pain reliever that is known to be much more potent than prescription opioids. It is commonly approved to treat severe pain and pain of advanced cancer. Fentanyl is also made illegally and mixed in with other drugs. 
Heroin is an illicit opioid that is thought to be easier to get and cheaper to buy on the street than prescription opioids. Its use has spread across the U.S. and infiltrated most age groups and all socioeconomic levels.
Opioid use disorder is a continuing public health issue in Philadelphia and the surrounding areas. Communities struggle to gain control over drug sales and use and reduce the number of opioid-related overdose deaths. However, opioid treatment in Philadelphia is within commuting distance and available to help those who want to stop misusing the dangerous drugs.
How Opioid Addiction is Affecting Philadelphia
Philadelphia is Pennsylvania's largest city. It is easily reached from several states, such as New York, New Jersey, Maryland, and the District of Columbia, allowing for many points of entry for drug distribution.
The city's health department indicates there were 247 unintentional deaths related to drugs in the fourth quarter of 2019. At year-end 2019, the city recorded 1,150 people died from drug overdoses; 80 percent were from opioid overdoses.
In 2018, the federal Drug Enforcement Administration (DEA) reported that Philadelphia was one of the major cities for the entry of cocaine. Heroin, fentanyl, and prescription opioids, sold on the street, also ranked high in drug sales for the city.
Residents in the Harrowgate community gathered recently to bring attention to the area's "open-air drug market," a place where drug dealers openly sell drugs. A news report states that Harrowgate has taken the brunt of the city's opioid crisis. As residents were gathered, "people used drugs on the sidewalks adjacent to the demonstration, and cleanup crews picked up used needles in the streets."
Philadelphia Substance Abuse Statistics
Philadelphia has long been dealing with a growing opioid crisis. The city reports that the percentages of drugs seized by law enforcement indicate that cocaine is the primary drug seized at 36 percent. Following it are fentanyl at 33 percent, heroin at 19 percent, and fentanyl analogs at 3 percent.
Residents of color seem to be affected more by drug addiction. The Philadelphia Inquirer reports that "the Black overdose death rate dropped just 14% in 2018, and had bounced back up to its 2017 rate by 2019. Overdose death rates among Hispanics dropped by 9% in 2018, and spiked by 24% in 2019 — bringing overdose death rates about even with those of whites."
In addition, as noted by the city health department, the percentage of people aged 25 to 34 years old were in the highest percentage of drug-related emergency department visits (29%). People ages 35 to 44 years old were close behind (22%).
The same report states there were 832 arrests made in the first quarter of 2020 that were heroin-related. It is essential for those who are affected by opioid use or addiction to seek help. Opioid treatment in Philadelphia is close by, readily available, and accredited.
Philadelphia Opioid Withdrawal and Treatment
Opioid Withdrawal
Opioid withdrawal can be very disconcerting and unpleasant. While not life-threatening, many of its early symptoms feel like the flu: restlessness, muscle aches, anxiety, teary eyes, runny nose, sweating more than usual, trouble sleeping, and yawning frequently. Symptoms that can come later include:
Abdominal cramping
Nausea and vomiting
Diarrhea
Goosebumps
Rapid heartbeat
High blood pressure
Strong cravings for the drug(s)
Most often, the symptoms start to improve around 72 hours.
The state offers a program called the "Warm Handoff," which is when a health provider conducts a face-to-face introduction to a substance use specialist. This results in a referral to a substance use treatment program.
Opioid treatment at Summit Behavioral Health is near and provides services to help ease withdrawal symptoms in a safe environment.
Opioid Treatment
Opioid treatment in Philadelphia may include medication-assisted treatment (MAT), medical detox, and inpatient or outpatient therapy.
MAT is useful for individuals to prevent opioid overdose, and the U.S. Food and Drug Administration has approved all medications for use. An individual in a MAT treatment program may expect to address their addiction by learning how it affects their "whole self."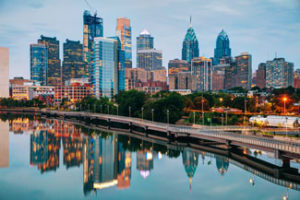 Medical detox is a form of treatment that provides medical supervision while an individual is in withdrawal from opioids. It offers medical and psychological support to overcome the daunting obstacles of becoming free from opioids.
Residential therapy includes inpatient and outpatient treatment options. Treatment options are developed with input from the individual to better fit their specific needs.
When a person is addicted to a substance, the diagnosis is usually a substance use disorder. A person with opioid use disorder has what it called a severe substance use disorder.
This may sound frightening, but it is vital to know that substance use disorders are treatable.
Summit Behavioral Health is an accredited substance use facility located within an hour of Philly. Opioid treatment in Philadelphia is available for anyone who wants to end opioid misuse.