The National Institute on Drug Abuse (NIDA) notes that opioids are a class of drugs that include prescription drugs, such as OxyContin, Vicodin, codeine, and others. It also includes illegal drugs like heroin and the synthetic opioid fentanyl.
Prescription opioid drugs manage acute pain for the short or long term, such as the case for people living with chronic pain. Short-term opioids are prescribed to people who have had surgery.
Illicit opioids, like heroin, are known to be easier to obtain and cheaper to buy than prescription opioids. Illicit fentanyl is produced in clandestine foreign labs and known to be added to heroin or other opioids to make the drug dealer's inventory of the opioids last longer. Fentanyl is a highly potent drug that is 50 to 100 times stronger than heroin.
Opioid use disorder, also known as opioid addiction, is a growing health concern in the United States. Pennsylvania is no stranger to the opioid epidemic plaguing cities. NIDA reports that sixty-five of drug overdose deaths in the state involved opioids in 2018.
Opioid addiction is a continuing public health issue in Pennsylvania, but there is help nearby for people who need opioid treatment.
How Opioid Addiction is Affecting Pennsylvania
Pennsylvania is located in the northeast region of the country. It contains large metropolitan areas, such as Pittsburgh, Philadelphia, Allentown, and Erie. However, opioids affect each part of the state, no matter the city's size.
The Pennsylvania Department of Health reports that "the prescription opioid and heroin overdose epidemic is the worst public health crisis in Pennsylvania." The state opioid dashboard (above link) indicates there were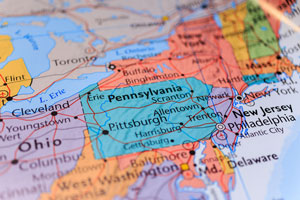 24,409 emergency room visits for opioid overdoses from January 2018 to mid-May 2020. In 2018, the state reported 287,063 individuals with a drug use disorder. Also, there were more than 4,000 overdoses from any drug.
The Drug Enforcement Administration's (DEA) 2018 Drug Threat Assessment identified Pennsylvania as one of the major cities of entry for cocaine in 2018. Heroin is another illegal opioid that ranked high on the DEA's list, followed by illegally made fentanyl.
Cocaine, heroin, fentanyl, and prescription opioids are the primary opioids distributed in the state.
Pennsylvania Substance Abuse Statistics
The state Department of Health reports that:
About 15.38 kilograms of heroin have been confiscated by law enforcement to date in 2020
Almost 23 kilograms of fentanyl has been confiscated by law enforcement to date in 2020
The DEA's  2018 Drug Threat Assessment data indicates:
About 4,491 drug-related overdose deaths were reported by Pennsylvania coroners and medical examiners.
Eighty-two percent of drug-related overdose deaths in Pennsylvania had the presence of an illicit opioid or prescription drug.
Fentanyl was the most frequently identified opioid in 70 percent of drug-related overdose deaths.
Fentanyl use was present in the younger demographic of the deceased between the ages of 15 to 24 and 25 to 34 years.
Heroin was the second most frequently identified drug in drug overdose deaths, with cocaine, benzodiazepines, and fentanyl-related substances following in that order.
It is essential for those who are affected by opioid use or addiction to seek help. Opioid treatment in Pennsylvania is close by, readily available, and accredited.
Pennsylvania Opioid Withdrawal and Treatment
The state provides several resources for those seeking opioid withdrawal and treatment, including a prescription monitoring program, the Pennsylvania Non-Opioid Directive, and the "Warm Handoff," which is described as "an approach where a health provider does a face-to-face introduction to a substance abuse specialist and makes a direct referral into substance abuse treatment."
Opioid Treatment
Opioid treatment in Pennsylvania may include medication-assisted treatment, medical detox, and inpatient or outpatient therapy.  Evidence-based treatment (EBT) options teach each person in treatment how to live without taking drugs.
Medication-Assisted Treatment
Treatment options for opioid addiction could include medication-assisted treatment (MAT) for short. MAT is sometimes used in opioid addiction treatment and alcohol use disorder.  It involves the administration of medicines used alongside counseling and behavioral therapies that help individuals with substance use disorders overcome addiction.
MAT is useful for individuals to prevent opioid overdose, and the U.S. Food and Drug Administration has approved all medications for use. An individual in a MAT treatment program may expect to address their addiction by learning how it affects their "whole self."
Medical Detox, Inpatient And Outpatient Treatment
Medical detox is a medically monitored process in which an individual undergoes withdrawal from opioids with medical and psychological support to overcome the physical and mental obstacles of becoming opioid-free.
Inpatient and outpatient treatment plans are developed with the individual's participation in hopes that the person sustains sobriety in recovery.
Finding Help
Addiction is a chronic disease affecting the brain and its reward centers. When someone is addicted to substances, such as opioids, they are compulsively using the substance even though they know the consequences of use. Opioid use disorder is considered a severe substance use disorder. However, it is treatable, and one can overcome it.
Summit Behavioral Health has accredited facilities located near Pennsylvania. It offers opioid treatment and many services to assist those who no longer want to use opioids.