Philadelphia, commonly called Philly, is located on the eastern side of Pennsylvania, and is the state's largest city. It is also the sixth-most populous city in the United States. Philly is rich in state and U.S. history. It was once called the "City of Brotherly Love," as its name means that in Greek. However, the city's nickname changed to the "City of Sisterly Love" to honor the 100th anniversary of the 19th Amendment, recognizing women's right to vote.
Philly is also a city with a steady and growing drug problem with heroin and opioids taking top rank as most readily available and abused. The city is the center of drug-related activity in the state. More drugs are sold in Philadelphia than in any other city in the commonwealth, despite ongoing law enforcement activity and several strong citywide programs to help people with addictions. In fact, Philly has the fifth most drug-related activity in the United States.
The good news is that there are top-rated drug rehab centers close to Philadelphia. If you are struggling with drug addiction, help is a phone call away. Learn more about drug rehab in Philadelphia today.
Philadelphia Drug Rehab Statistics
It is estimated that more than 65,000 individuals are estimated to have a drug use disorder in Philadelphia. The rate of drug intoxication in the city killed 702 individuals in 2015, 907 in 2016, and 1,217 in 2017. Philly had more than double the rate of drug fatalities in 2016, than cities of its same size. The top three drugs involved were fentanyl, cocaine, and heroin.
In Pennsylvania, opioids were involved in 46,802 overdose deaths in 2018. That is almost 70 percent of all overdose deaths, as the National Institute on Drug Abuse reports.
Drug-related fatalities involving synthetic opioids, including fentanyl and fentanyl analogs, rose with more than 28,400 overdose deaths in 2018.
Most Commonly Abused Drugs in Philadelphia
According to the U.S. Drug Enforcement Administration, the most easily available and abused drugs in Philly are:
Heroin
Fentanyl and fentanyl analogs
Cocaine, powder cocaine
Crack
Methamphetamine
Marijuana
These substances are transported through the Area Port of Philadelphia and distributed and sold mainly by Dominican Transnational Criminal Organizations. Some areas of the city are more hard hit by drug-related activity than others.
Philadelphia Drug Rehab History and Rankings
While it may seem that the drug problems in Philly are insurmountable, there is hope. Drug intervention and addiction treatment are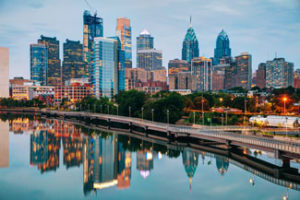 immediately available.
Prevention Point is an organization that started 30 years ago in response to the AIDS crisis. It provides medications for opioid use disorder (buprenorphine and naltrexone) and distributes naloxone kits for reversal of opioid overdoses. The organization also offers sterile syringes to reduce the risk of infections for those who inject drugs, like heroin. It also connects people to behavioral health treatment.
Addiction treatment is available at top-rated drug rehab facilities. An addiction treatment center is the safest place to begin ridding drugs from your life. Several licensed and accredited places are within easy driving distance of the city center, such as Summit Behavioral Health.
Quick Treatment Facts
Addiction treatment is beneficial for those who struggle with drug use. Addiction treatment should always be readily available, tend to all the needs of the individual, and last long enough to be effective. Respectable and accountable treatment centers here to the American Society of Addiction Medicine's continuum of care.
Addiction is a chronic disease that has a significant rate of relapse. However, relapse is not a sign of failure. It is a sign that the treatment plan needs adjusting so the individual can continue their journey to be addiction-free.
Many addiction treatment centers provide aftercare programs and support groups, which provide steady encouragement. Today is the best day to begin your life to become addiction-free.