The opioid epidemic, as we know it, has largely been driven by oxycodone use. Sold under popular brand names like OxyContin and Percocet, this semisynthetic opioid is one of the most widely prescribed medications in the United States. Five billion oxycodone tablets were distributed in the United States in 2016.
Buoyed by a savvy marketing campaign, OxyContin was hailed as a medical breakthrough for its ability to provide long-lasting relief to people who have pain. As recently as 2012, healthcare providers wrote 259 million prescriptions for painkillers, enough for every American adult to have a bottle of pills.
In the decades to come, this breakthrough would contribute to breakdowns — of lives, families, and entire communities. The rates of opioid overdoses, including oxycodone, continue to spike. People who sought out the drug to address pain from an accident, surgery, or terminal condition ended up getting hooked. Many were driven to exceed their prescribed dosages, obtain more of it through illicit means or switch to heroin once their prescription got too expensive. Others simply got their hands on it to get high.
Despite intervention from political and legal authorities, oxycodone remains a primary player in a full-scale addiction epidemic that does not appear to be slowing down anytime soon.
What is Oxycodone Addiction?
Oxycodone was first synthesized in 1916, but it was used clinically the following year. The opioid binds to receptors in the brain and spinal cord, effectively blocking pain signals. Users derive a "high" from oxycodone because it activates the reward areas of the brain which releases dopamine. Oxycodone has been nicknamed OC, Hillbilly Heroin, Kicker, Ox, Oxy, Perc, and Roxy.
How it became one of the most widely prescribed and abused medications can be told through the story of OxyContin, one of the most popularly prescribed oxycodone products.
OxyContin was approved in December 1995. It was formulated as an extended-release medication as a hedge against abuse and dependence. "Delayed absorption as provided by OxyContin tablets, is believed to reduce the abuse liability of a drug," stated the original label.
Based on that claim, the makers of OxyContin launched an innovative marketing campaign. They persuaded doctors to prescribe the medication 70 percent of the time, effectively reversing old prescribing trends. That campaign spurred OxyContin to become one of the most prescribed opioids in the country. It would generate $35 billion in revenue, becoming a blockbuster drug many times over.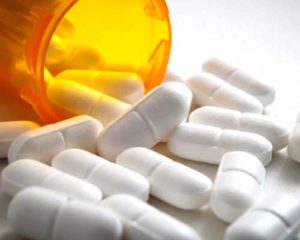 In 2003, the U.S. Food and Drug Administration (FDA) notified the makers of OxyContin about the lack of warning statements concerning its addictive qualities. The regulatory agency would go on to issue a black box warning that OxyContin exposed users to "the risk of addiction, overdose, and death."
In 2007, the drug manufacturer pleaded guilty to misbranding OxyContin and paid more than $600 million in fines. The drug was also reformulated to include abuse-deterrent properties, but the switch made users turn to heroin and other opioids.
The fines, warnings, reformulations, and lawsuits came too late. A full-blown addiction epidemic took hold. OxyContin use would be a major contributor to the spike in opioid deaths and overdoses in the early 2000s, often referred to as the epidemic's first wave.
Between 1999-2016, more than 350,000 people died from opioid overdose, including those who used oxycodone. Though latter waves of the epidemic have been fueled by heroin and fentanyl, oxycodone continues to play a prominent role in driving addiction.
What are the Signs of Oxycodone Addiction?
Oxycodone is the active ingredient in pain medications like Percocet, Percodan, and Tylox. It is classified as a Schedule II drug by the U.S. Drug Enforcement Administration, meaning that it carries "a high potential for abuse."
OxyContin, which is purely composed of oxycodone, is the most widely known medication. It has a time release feature that disperses the medication in four-to-six hour intervals. Oxycodone products are available in capsule, tablet, and solution form and should be taken as prescribed. Users lapse into addiction when they consume more of it, take it more often, or use it longer than what the doctor ordered.
OxyContin is also considered a gateway to heroin. Some studies have shown that people who abuse OxyContin are more likely to use heroin intravenously, particularly as the addiction worsens and the prescription medication becomes unavailable.
When oxycodone addiction sets in, it triggers physical and mental changes in users. Key symptoms associated with oxycodone abuse are:
Constipation
Drowsiness, nodding off
Dry mouth
Euphoria
Headache
Lightheadedness
Itching
Low blood pressure
Nausea and vomiting
Sedation
Sweating
Like other opioids, oxycodone misuse can lead to overdose symptoms that can be life-threatening. Those include:
Difficulty breathing
Slowed or stopped breathing
Excessive sleepiness
Limp or weak muscles
Narrowing or widening of the pupils (dark circle in the eye)
Cold, clammy skin
Loss of consciousness or coma
When oxycodone users are caught in the grips of addiction, they often seek the easiest route to quitting by attempting to go "cold turkey." Attempting to quit on your own greatly increases the likelihood of relapse. The withdrawal symptoms alone can be enough to cause you to slip.
When you stop using oxycodone, it can trigger early withdrawal symptoms such as agitation, anxiety, muscle aches, increased tearing, insomnia, a runny nose, and sweating. The late symptoms of withdrawal also include diarrhea, dilated pupils, nausea, vomiting, and abdominal cramping.
What is Involved in Oxycodone Addiction Treatment?
Professional treatment is the best way to treat oxycodone addiction. It offers the most effective path to sobriety and greatly lessens your chance of relapse. There is a variety of approaches for opioid addiction treatment, but the most effective and lasting method is one that addresses your individual needs. Another important trait of effective treatment is its ability to treat the whole person.
Detox
If you are battling an oxycodone addiction, the first step of recovery begins with medical detoxification. At New Perspectives, a licensed and experienced staff administers a detox via medication-assisted treatment (MAT), which is designed to safely remove the drug from your body using approved medicines.
In this phase, you will receive either methadone, buprenorphine, naltrexone, or naloxone to treat the uncomfortable withdrawal symptoms of oxycodone addiction. The next step after detox is residential treatment or outpatient treatment.
Residential
For people with severe addictions who need time away from their everyday environment, inpatient treatment is the best solution. During this phase, you will stay at a residential facility where you will receive the necessary counseling and therapy to help you get sober.
Outpatient
For those who can receive recovery services and still go about their daily lives, there is outpatient treatment. In outpatient, you will have regular appointments at a treatment clinic or medical facility for therapy sessions, medical check-ins, and more for varying amounts of time.
You can receive the same level of care as someone in an inpatient program, except you will be able to remain with your family, go to work or attend school. At New Perspectives, we provide three levels of outpatient care:
General outpatient treatment: This program offers educational classes, counseling, and medical check-ins for a minimum of two hours a week.
Intensive outpatient treatment: This comprehensive program renders a level of care typical of inpatient treatment. Intensive outpatient usually requires at least three appointments a week for sessions lasting around two to four hours at a time.
Partial hospitalization treatment (PHP): A PHP program typically lasts between one and three months.
Whatever program you choose, our team will administer the appropriate level of care to ensure your recovery and equip you with strategies to prevent future relapse.
How Dangerous is Oxycodone?
Oxycodone products should not be used if you are allergic to them, are prone to asthma attacks, or have any kind of blockage in your stomach or intestines. Oxycodone may also cause serious or life-threatening breathing problems, especially during the first 24 to 72 hours of treatment and whenever your dose of the medication is increased.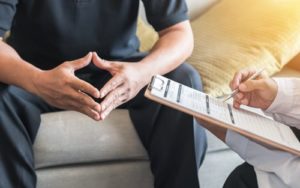 Also, taking oxycodone with other medications may also increase serious or life-threatening breathing problems, sedation, or even coma. Symptoms like unusual dizziness, lightheadedness, extreme sleepiness, slowed or difficult breathing, or unresponsiveness can occur if you take medications for mental illness, nausea, or pain.
The same symptoms can occur if you plan to or already take antifungal or HIV medicines, muscle relaxants, sleeping pills, or sedatives. It is also advised that you do not drink alcohol with oxycodone as it heightens the chance that you will experience severe, life-threatening side effects.
Pregnant women on oxycodone should also be aware that their unborn children can become dependent on the medication and experience life-threatening withdrawal symptoms. Women are strongly advised not to breastfeed while taking OxyContin, as the drug could pass through the milk, causing the baby to become drowsy or experience breathing problems.
Oxycodone Abuse Statistics
Drug overdose is the leading cause of accidental death in the US.; with opioid addiction driving this epidemic. There were 20,101 overdose deaths related to prescription pain relievers like oxycodone in 2016.
Nearly 80 percent of Americans using heroin (including those in treatment) reported misusing prescription opioids like OxyContin first.
The National Household Survey on Drug Abuse reported that nearly 1 million U.S. residents aged 12 and older used OxyContin nonmedically at least once in their lifetime.